Find Green Homes for sale
Welcome to GreenHomesSanDiego.com, where we promote green homes for sale in San Diego. Our goal is to be the premier search site for forward thinking green living enthusiasts to find or market green homes in San Diego.
---
From LEED Platinum luxury homes, to unique Straw bale or ICF construction, to water conservation & smaller energy retrofits that fit any budget, this year's tour will once again offer a wide variety of green homes in San Diego to view. Learn about unique green home products, rebate programs, materials & construction techniques, while connecting with other like-minded individuals.


Tour Date TBD (Oct/Nov)

View pictures & a green home site list from last year's tour:

Green Homes Tour 2015

Interested in Sponsoring this year's Tour?
Know of or own a Green Home to submit for the Tour?

Contact Adam Pascu via cell: 858-761-1707 or website inquiry
---
Recent Green Homes Sale
3214 Via Alicante, La Jolla - Sold!
Call or Email me (Adam) to sell your green home: 858-761-1707 or website inquiry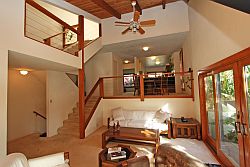 3214 Via Alicante, La Jolla CA
Short-list of Green Condo Features:
1. Hot Water Solar Panel system
2. Thermostatically controlled wood burning stove w/waste heat recovery system
3. Solar water distiller
4. Electric water distiller
6. On-demand water heater for shower
7. Energy Efficient dual pane Anderson windows & doors that are low e-4 and FSC certified wood
8. Banana tree circle (permaculture designed) in raised planting bed on patio w/compost area
9. Producing Plantain trees
10. Location: walk/bike to multiple shops/stores, malls, grocery stores, UCSD & farmer's markets. Excellent area for public transportation. Current owner does not own a car!